As MotoSamoa has a presence on both islands, we can provide tours on either Upolu, Savaii or both. Our suggested packages are just a starting point for you to create a unique Samoan touring experience with MotoSamoa.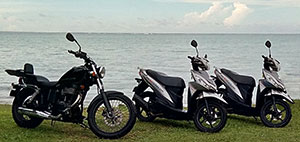 MotoSamoa offers two types of tours, our Cruiser Tours, where you are taken around Beautiful Samoa on the back of our 650cc Suzuki Cruiser, capable of covering all of Samoa's roads in comfort, style and ease. We also cater for those that want to take things into their own hands, we can provide for groups of up to 10 with an experienced MotoSamoa guide on our capable and reliable Suzuki Address Scooter Tours.
All MotoSamoa Tours include picking you up and returning you to your accommodation or pre-arranged place at an agreed time. Because there is so much to see in Samoa, during the booking process we encourage you to select a number of places of interest that you would like to visit and then we will correspond with you to create the perfect itinerary to match your time, budget and sense of adventure.
MotoSamoa Tours usually require at least 24 hours notice for bookings, so that all the logistics and an agreed itinerary can be confirmed.